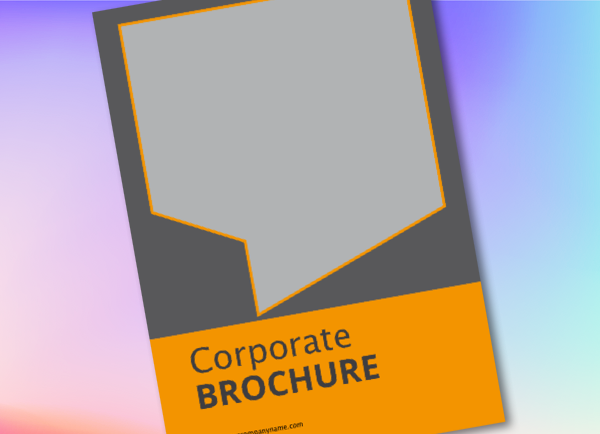 Image brochures - optimal planning and implementation right from the start
An image brochure should convey a clear picture of a company or organisation to a target group. It is an absolutely central marketing element in external communication. The image brochure summarises all products and services offered as well as the most important aspects of the corporate philosophy. An image brochure is therefore a multi-page print product that offers the company the opportunity to present itself in the best possible way and to address the target group.
The production of such a brochure is certainly associated with some effort. However, there are some very good reasons to create a really good image brochure and not only to distribute it digitally, but also to print it out. With a printed version, readers hold something in their hands - they have a haptic experience and feel the high-quality paper. The impression that someone has put a lot of effort into the brochure is also more likely to be created with printed versions. Although (or probably because of) the digital transformation continues to advance, the value of printed image brochures continues to increase in the year. Other advantages of printed image brochures are better readability, high quality and durability. While digital PDF files are quickly forgotten, high-quality printed copies are more likely to be kept and do not end up in the wastepaper basket as quickly. Companies should definitely rely on a high-quality image brochure - no other medium offers so much room for creativity and positive presentation.
The Preparation
Before you start developing the content, you need to think about various issues. These include:
What is the overall aim of the brochure?
Should this be a purely informational document or do you want to focus on a specific topic? Or perhaps you would like to address a very special project within the company. Also consider what values you want to convey. The central message should be clearly recognisable. Try to answer this question as openly and honestly as possible. Put yourself in the reader's shoes and imagine how the image brochure should affect the reader. Only then do you move on to the next step. Contacting external service providers early on will help you a lot here.
Which target groups do you want to reach?
A well thought-out target group definition will greatly help you in the entire development process. By delimiting possibly unimportant target groups, you achieve a high level of accuracy of fit. Define your target group as narrowly as possible. Try to include language patterns, media behaviour and depth of information. Also clarify the question of regionality. A cultural area like Germany, for example, is very different from Asian or Arab countries.
Digital or analogue - or both?
Should the finished image brochure be printed or appear as a purely digital format on the internet? This question is of elementary importance when it comes to the content, the preparation and the formats. After all, people should be able to download the document later or take it with them. Depending on the target group, a cross-media version may also be an option. Think through this decision carefully, because a purely digital brochure is usually difficult to transfer to print. Also bear in mind that good image brochures are often sent by e-mail. So don't inflate the document unnecessarily.
The concept
In the conception phase, everything revolves around gathering the relevant content and information. Only when the structure and content have been clearly defined can implementation begin. The be-all and end-all of a good corporate publication is factually correct content. The more time you spend on the conception, the easier and safer the implementation phase will be. Important points to work on are:
Definition of the most important topic complexes and concept for content
Drawing up a rough table of contents on facts and figures
Determination of contact persons / interview partners
Definition of an image world / image concept
Structure of the image brochure
Definition of the number of pages (as a starting point for planning; in many cases the number of pages will still change during implementation)
Defining the format
Gathering knowledge about all departments
Initial thoughts on design and structure
Checking the corporate identity for important building blocks
Paper selection
Type of binding / digital placement
Type of distribution (press, news)
Placement of logo
Other points that should be included in the conception are:
Company profile: A summary of the company and a brief history are helpful.
Market position: A realistic assessment of the company in comparison to competitors' offerings.
Current situation: An explanation of the current situation that is the reason for the brochure, e.g. the launch of a new product.
Communication background: Past and present communication activities, such as research, advertising, direct mail, graphic design, public relations, etc.
Communication task - "the message": What is the context of the specific message in relation to the business plan? If possible, include information to be shown in the designed item, e.g. taglines, text, images, etc.
Target market: Demographics - age, gender, income, employment, geography, lifestyle of people to be reached.
Objectives: What do you want the brochure to achieve? If possible, the objectives should be specific and the results measurable.
The implementation - creating image brochures
The implementation of the image brochure is the most time-consuming part. With good preparation, however, you are optimally equipped to work in a structured way on good texts, images and layouts. The implementation phase is divided into three parts:
Structure and layout
In the first section, you define a detailed page plan and the exact structure. This means that you know exactly which text, image, advertisement or even which interview is on which page and where. The page plan is your basis for being able to design all further process steps without any problems. Be very detail-oriented in this step. It is not a bad thing if you already have fixed ideas from start to finish. Quite the opposite. It helps the authors to write the publication quickly and without errors. Also think about a suitable title very early on. A publication to advertise job vacancies should be called something different than a pure marketing tool.
Here you get optimal support from pageplanr: Create a page plan, form page groups to combine articles on a topic. You can delete, add and move pages at any time. And you can already assign articles, topics, graphics etc. to individual members of your team and thus create a clear distribution of tasks including clear deadlines. With the pageplanr timeline, you can plan the timeline of the implementation process as roughly or as detailed as you deem necessary. In any case, with a timeline you ensure that the implementation is realistically planned and that the publication date is met.
Texts and images
Now you are ready to create the texts and develop the images. Depending on the size of the company, the document may be publicly readable for years. The information must therefore have a long shelf life and be formulated accordingly. A clear and structured writing style is imperative. Your wording should definitely match the company. Good agencies even go one step further here. In addition to classic copywriting, they give the project a garment - a kind of overarching story that runs from page 1 to the end. This is called storytelling and requires a very high degree of creativity and experience. Because storytelling can quickly turn into blah blah blah. This must be avoided at all costs. Emotions bind your readers to the brochure and thus to the company.
When choosing pictures, it is advisable to involve an experienced photographer. These trained professionals usually have a very good eye for important details. After all, studies prove that the images are at least as important as the texts. It is therefore imperative that you avoid using stock material. Digital brochures can be enhanced with videos and moving image formats. However, make sure that you use these elements sparingly. The reader should concentrate on the content.
Graphics and layout
The last section is about graphics. A modern and fresh layout is important - no matter what industry you work in. In employer branding, we definitely recommend using the existing key visual of the employer brand, if applicable. If the image brochure has a more general purpose, it must be unmistakably linked to the company's CI or corporate design. Modern is all well and good - but stay true to the brand strategy. Your publication will be read primarily if the layout is appealing. The use of an external agency or an external graphic designer is helpful here. This will give you a much higher degree of professionalism and you will also gain an outside perspective. This is invaluable, especially for large companies, as you often get lost in the details during the creation process.