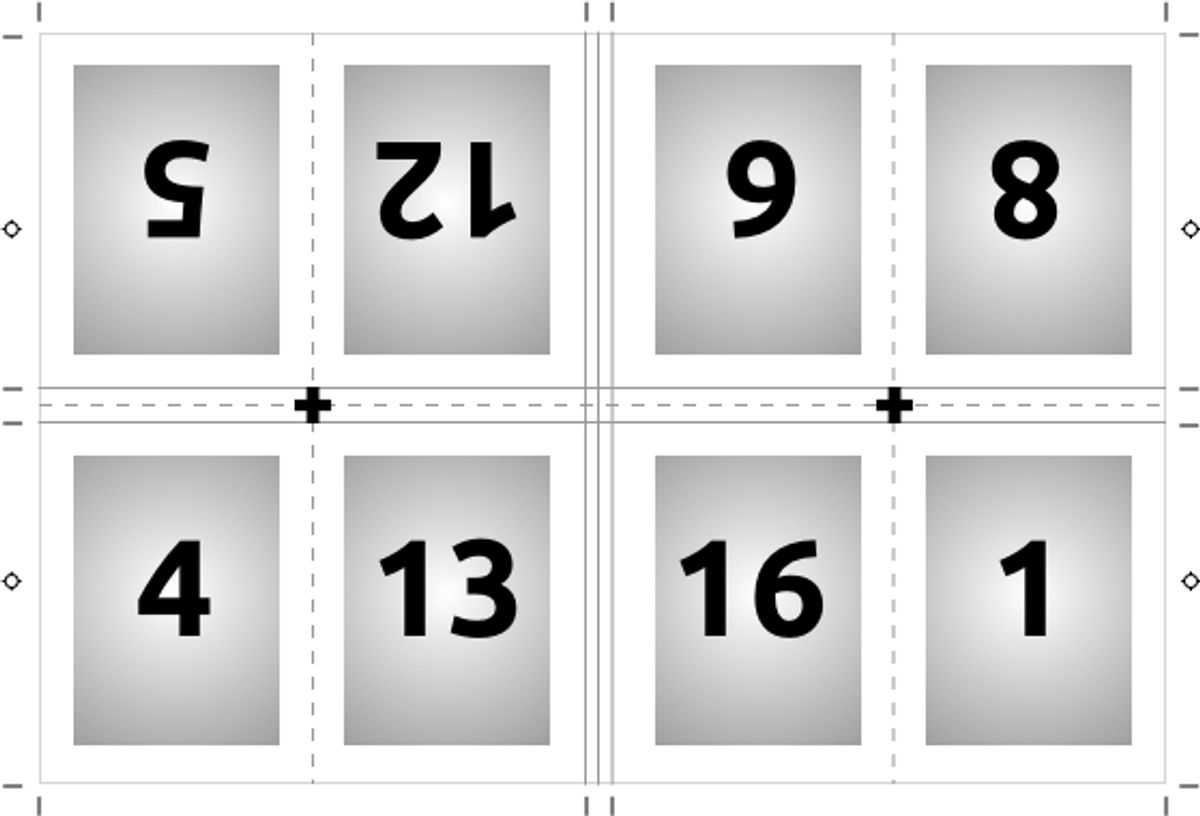 Imposition and printing sheets
In the settings of a pageplanr project, you also specify the print sheet size. You can choose between 2, 4, 8, 16, or 32 pages per sheet. And if the number of pages in your project cannot be distributed over the set print sheet size, pageplanr will warn you accordingly. But what exactly does it mean when there is such a warning? What are the consequences of selecting a certain print sheet size?
Different costs due to the useful division of the paper sheets.
Optimal distribution of pages on printed sheets means fewer work steps and less waste in the printing process. This is why a brochure with more pages can actually be more cost-effective in the end than one with fewer pages. A concrete example is the best way to illustrate this.
In sheetfed offset printing, we talk about sheet splitting and blank splitting. A spread is the number of print products that can ideally be placed on a printed sheet in order to make optimum use of the sheet. The product can also be placed several times on the print sheet. For example, for a 32-page brochure with the same paper grammage throughout, 16 pages (4x 4 pages) are placed on one print sheet. 32 pages therefore correspond to 2 printed sheets (2x 16 pages). Assuming a 4-color double-sided print image, 16 printing plates (2x 8 plates - 4 each for the front and 4 for the back) are required for printing. 2 passes (2 sheets) are then required for folding and then 2 stations on the saddle stitcher.
In the case of a 28-page brochure, on the other hand, the layout would look as follows: 1x 16 pages (1st print sheet), 1x 8 pages (2nd print sheet with 2 panels) and 1x 4 pages (3rd print sheet with 4 panels). So we already have 3 sheets. These sheets must now also be folded. Since we can fold the 16-page sheet as one sheet, but have to cut the 8-page and 4-page sheets again before we can fold them (8-page sheet with 2 panels on the sheet and 4-page sheet with 4 panels on the sheet), this is another production step that also incurs costs. The 8-pager and the 4-pager then also have a different folded sheet format, so we then have to change over the folding machines again. On the saddle stitcher, 3 stations are needed for collating.
So the more different printed sheets and the more different folded sheets, the more costs are incurred.