25.01.2019
project settings - the whole truth
The whole truth about the project settings is that they are not decisive because they can be changed at any time and are actually more informative.
Let's look at the settings in detail:
Project title
First there is the title of the project. Our own design practice has shown that it makes sense to be able to assign individual projects to a customer. A customer can also have several projects, and there can also be recurring projects. That's why the project titles at pageplanr are divided into three parts: Customer, Title, and Issue. All three parts are optional, i.e. none have to be filled in. However, one of the three fields must contain at least something, otherwise pageplanr automatically gives the project the title "New Project".
Project specifics
Next, we can set the period in which the project should be created. Here you simply enter the start and end dates.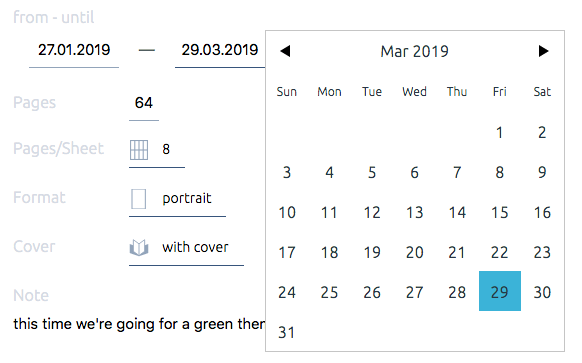 Then we define how many pages the project should contain. Of course, the number of pages can also change later, because parts are omitted or added. In the page plan, such changes can be made at any time by deleting or inserting pages. The number of pages that is entered here in the settings is therefore only the starting point.
Specifying how many pages are to be printed on one sheet provides assistance for print production. A corresponding warning is displayed in the page plan if the number of pages in the plan does not match the selected print sheet layout.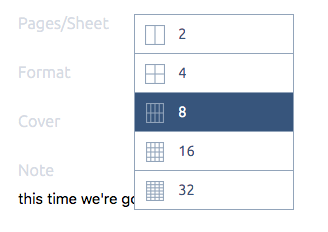 The format of the project can be set to portrait, landscape or square. The display of the page plan, page previews and PDF is adjusted accordingly.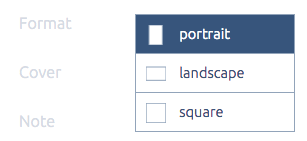 The setting whether the project has a wrapper or not only affects the pagination of the pages. If the project does not have a wrapper, all pages are numbered starting with 1 for the first page. If the project has a wrapper, the first two pages of the project get the page number "Cover 1" and "Cover 2", and the last two pages get the page number "Cover 3" and "Cover 4". The remaining pages are numbered starting with 1 for the third page.

Of course, there are also projects that have more than four pages for the wrapper, for example brochures with additional flaps or the like. Unfortunately, it is currently not possible to display such cases in pageplanr.
Last but not least, the project can also be given a note, for example for general customer specifications or production notes.
That's it for the settings. If there are any aspects of your projects that you'd like to add to the settings just let us know. Every feedback is welcome!