Ads Management
Overview is the be-all and end-all of sensible production management in print productions. Of course, this also includes an overview of all the advertisements to be placed. Which formats have to be placed on which pages and are the corresponding print data already available? With pageplanr you can keep everything under control.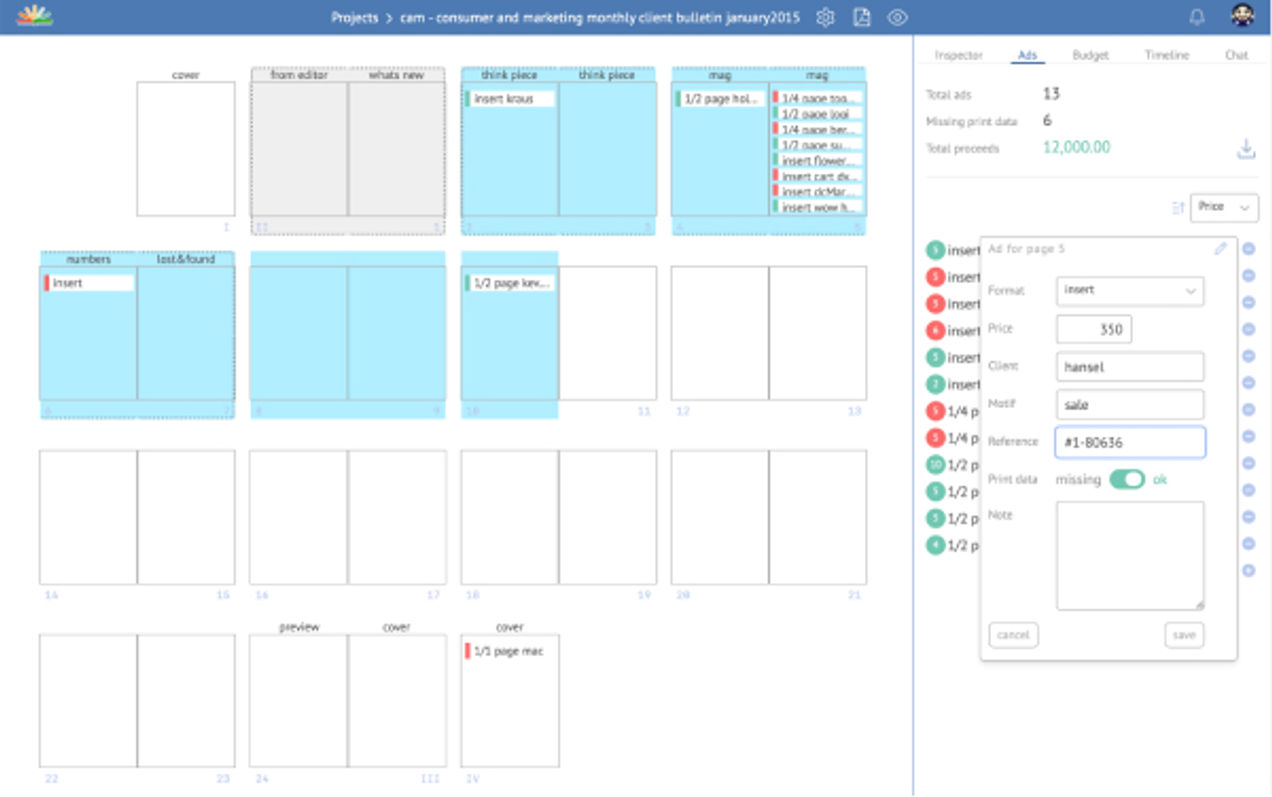 In the "Ads" module of a project you see all the pages of your project as in the normal page plan. However, here you are not shown the page images and types, but all the ads placed on the pages.
In the right-hand column you will see the total number of advertisements at the top, the number of print files still missing for the advertisements, and the total advertisement prices.
Below this, you will see a list of the ads on the pages currently selected in the page plan.
You can sort this list by price, format or customer using the drop-down field above the list on the right.
Creating and editing ads
To place a new advertisement, click on the
icon in the right column. Then enter the corresponding data in the dialogue. The ad format and the page on which the ad is to be placed are mandatory entries. All other fields are optional and can be left blank. To edit an existing ad, click on the
icon in the corresponding line. You can delete an advertisement with the
icon.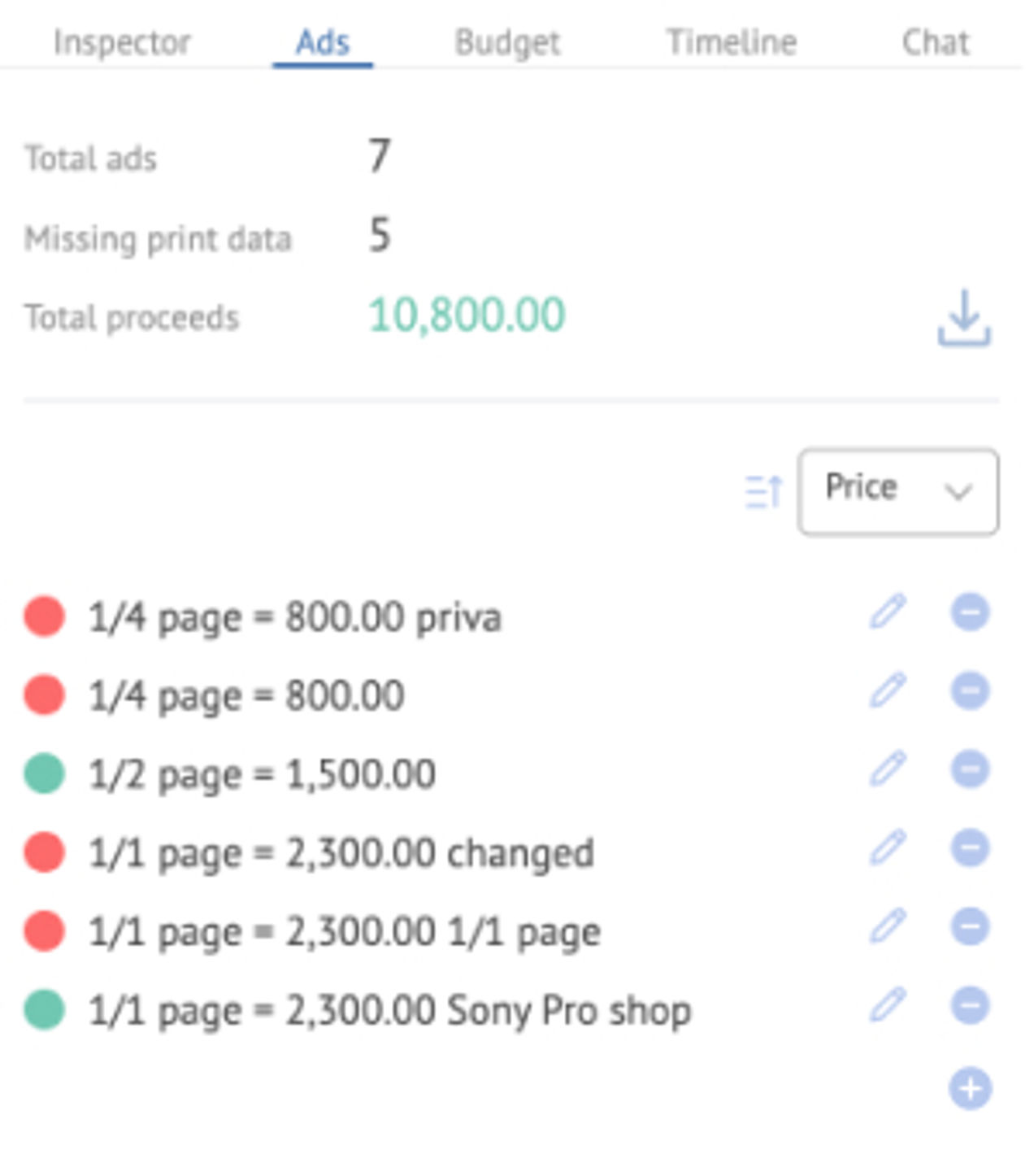 Dazu können Sie zusätzlich aber noch Angaben zum Anzeigenpreis, dem Kunden und dem Motiv machen. Manchmal gibt es auch Referenznummern zu dem Anzeigenauftrag, die Sie hier ebensfalls zur besseren Zuordnung eingeben können. Und schließlich können sie auch noch Notizen mit eingeben, beispielsweise Produktionshinweise oder Ähnliches.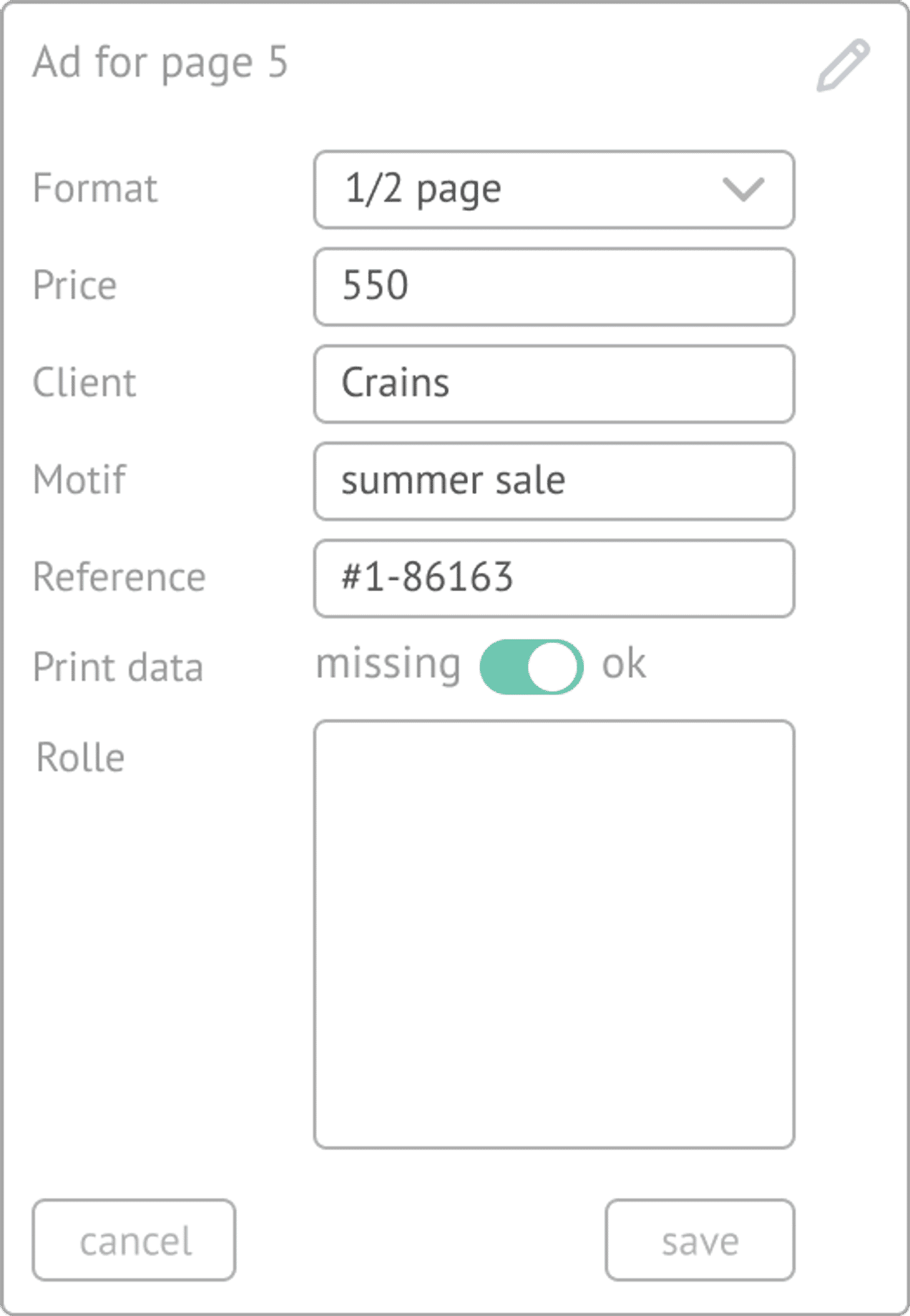 Ads Format
The ad formats are standardised and you can create as many ad formats as you like with the corresponding sales price as templates in your account preferences. These templates are then available for selection here in the ad inspector as a drop-down list, so that you can quickly make a selection and do not have to enter ad formats manually each time. The price of the respective format is taken from the preferences, but can of course be changed here.